General (useful) Research links:
---
More information about Research & Funding is available on the MED webpages – you can find specific info at these links:
In Norwegian:
In English:
past presentations from Research seminars: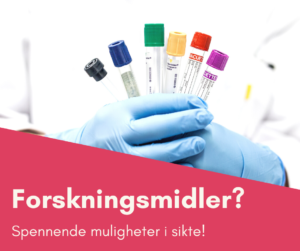 ---
---
---
---
---
---
---
Huske  å søke REK-godkjenning i god tid, at dette som hovudregel gjeld alle prosjekta vi er involverte i, og å ta kontakt med REK om det skulle vere spørsmål. / Virtually all health research projects that we are involved in need to be submitted to the Norwegian Ethics committee. REK must be also be contacted about all cases were we are the slightest uncertain.
---
---
UiB har satt i gang et arbeid med mål om å identifisere avgjørende betingelser for høy faglig kvalitet – UIB FRAM.
---
online course in Mitt UiB for researchers
---
---
Forskerlinjeoppgaver:
Å rekruttere en forskerlinjestudent inn i et prosjekt kan være en veldig god mulighet for å styrke et prosjekt med mer ressurser. Les mer.
---
Bruk av fellesmidler til søknadsstøtte
---
---
Fra RCN: