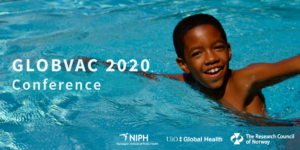 Den pågående pandemien har gjort global helse viktigere enn noensinne. For å slukke litt av kunnskapstørsten inviterer vi denne høsten til fire spennende webinarer i samarbeid med FHI og UiO.
På globvac2020.com kan du melde deg på disse fire webinarene:
8. september: «Covid-19 aspects and healthcare systems»
13. oktober: «Children, health and nutrition»
10. november: «Digital health»
8. desember: «Mental health in crisis, vaccine and point of care support»
More info: Invitation GLOBVAC webinar (002)
See the GLOBVAC map showing international partners, Norwegian partners, and project locations …
Vi har finansiert forskning for 716 millioner kroner og bidratt til å forbedre helsen til mennesker i utviklingsland siden 2012. Dette kartet gir deg en global oversikt over forskerprosjekter finansiert gjennom GLOBVAC-programmet. Les mer.