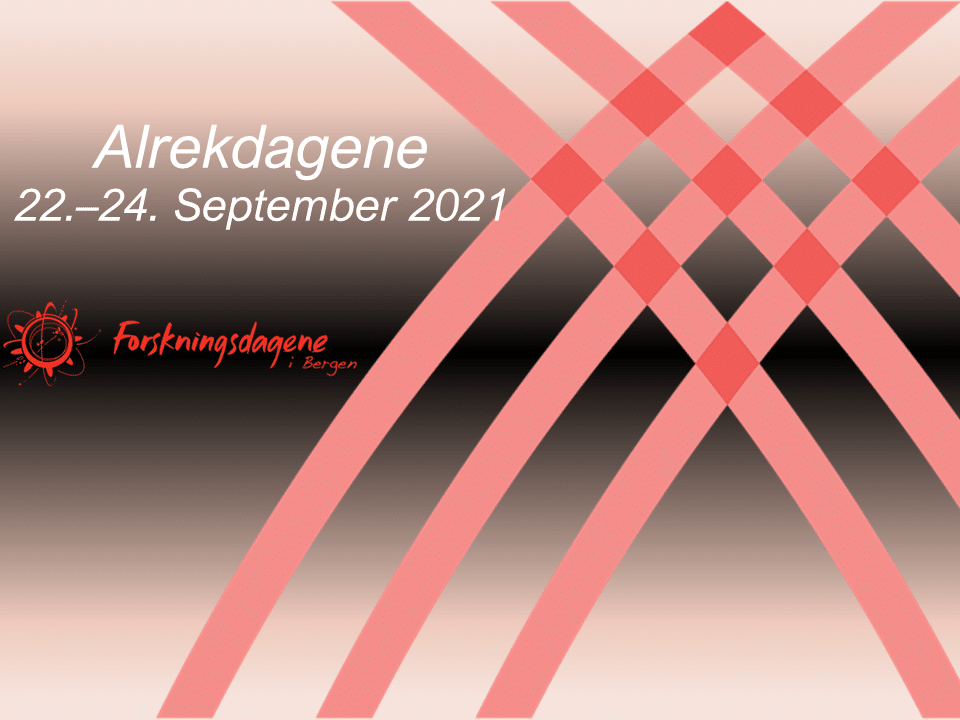 from Guri and Berit Angelskår:
Dear all IGS'ers,
Please find the program for Alrek-dagene (Alrek days) attached – happening September 22-24.
Alrekdagene kortprogram ENDELIG
The program includes seminars, film, researchers night etc, covering topics of interest for everyone. This gives you the opportunity to get to know other groups and people at the Alrek Health Cluster.
Please note that you have to register with this link:  https://nettskjema.no/a/211416
More information in Norwegian from cluster facilitator Berit below.
Clear your calendar and join the festival!
---
Kortprogrammet til Alrekdagene 2021. Komplett program blir publisert på alrekhelseklynge.no så snart vi er klare med all informasjon som skal inn.
Fullt program finner du her: https://alrekhelseklynge.no/nyheter/program-for-alrekdagene/
Påmelding til Alrekdagene gjør dere her: https://nettskjema.no/a/211416 eller via lenken over.
Det vil bli opprettet et eget arrangement for Researchers Night om overgangsalderen, som vi holder fredag kveld den 24. september.
Håper dere vil delta og spre informasjon om Alrekdagene i deres faggrupper, fagmiljøer, studentgrupper og organisasjoner!
Vi skal også ha et fellesarrangement med Idrettsklynge Vest på Arendsalsuken, «Har idrett en plass i hesletjenestene?» som streames på torsdag kl. 17:30.
Velkommen!!
Beste hilsen,
Berit